The Tie-break

is a reenactment of the legendary fourth set tie-breaker from the 1980 Wimbledon Finals between Björn Borg and John McEnroe, as performed by Tibi Tibi Neuspiel and Geoffrey Pugen. On October 1st 2011, from 7pm - 7am, Neuspiel and Pugen repeatedly attempted a shot-for-shot replay of the most fabled 24 minutes in tennis history on a specially installed court in the center of Toronto's financial district. In the months following the performance the artists exhibited a series of tennis themed artworks.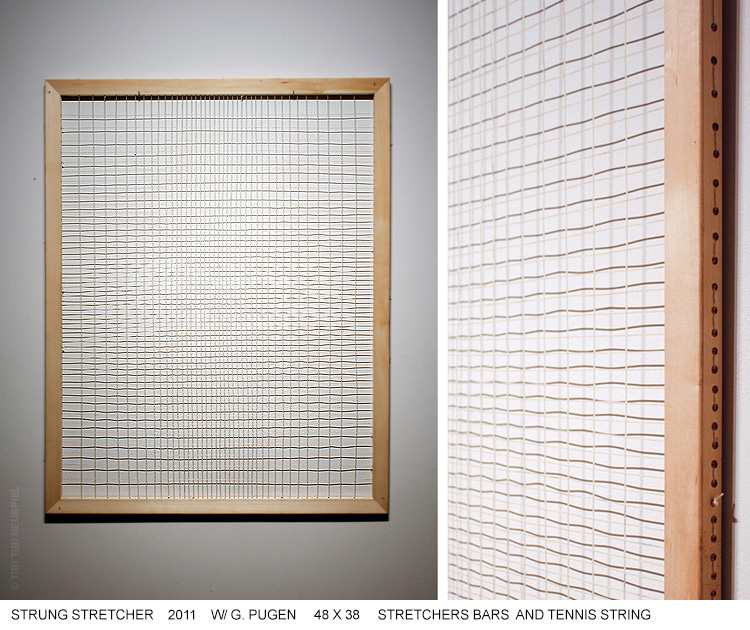 Hurdles explores concepts of fairness through a series of competitions in which Tibi Tibi Neuspiel and Geoffrey Pugen race over sculptural hurdles constructed for the performance. Seven preliminary sprint heats determine the setup for the eighth and final race. The winner of each heat has an obstacle placed in their lane thereby creating a handicap for the following run. The objective is to create a level playing field for the final race, which ultimately determines the victor. (Commissioned by the Art Gallery of Ontario.)
Drills is a performance that satirizes conventions and clichés of contemporary sculpture. The artists race through the repetitive construction and deconstruction of a series of art works, ultimately creating an ephemeral art show on a squash court at New York University for no audience other than passerby gym-goers. Performed on the same weekend as the Frieze art fair, none of the artworks were for sale, all materials where purchased then returned to Home Depot and Whole Foods that same day.